•• THE DAILY TELEGRAPH ANNOUNCES - WEST AMONGST BEST AMERICANA ALBUMS OF 2016 •• 
'Starlight Highway' chosen as one of the best released in 2016  
"California-based singer-songwriter Corinne West has a sweet voice that brings out the full flavour of her evocative songs. 
The 10 songs are uniformly strong on this self-produced album..."  
~ THE TELEGRAPH, Martin Chilton, Culture Editor.

"She's nobody's clone and, whether on the ballads or the albums clutch of more uptempo numbers she has an aching purity of her own." 
- FATEA Magazine, UK. Mike Davies

4 STARS ~ "Dreamy songs inhabiting the folk-country borderlands. Distant and beautiful."
- MAVERICK MAGAZINE, UK. Amy Jones
"American singer songwriter who is even more amazing live than on disc"
- MIKE HARDING, Legendary BBC Broadcaster - UK

"…a California singer with an angelic voice."  
~ SAN FRANCISCO CHRONICLE
"Corinne West, "Starlight Highway" (Make Records)- The gentle and often unjustly maligned art of the singer-songwriter is seemingly alive and well and quietly flourishing across the pond in the U.S.of A. on the evidence provided by fine albums such as Corinne West's "Starlight Highway." Corinne has lived the life of an itinerant acoustic troubadour since turning her back on home and school at the tender age of fifteen . gathering the experiences which inform her subtly memorable creations as she's aided and abetted in her efforts here by sympathetic sidemen such as Kelly Joe Phelps and one-time Beach Boys drummer Ricky Fataar. "Monday's Song" and "Trouble No More" are the best of a captivating bunch."
~ UK by KRN Media
 
"Possessor of a beautiful voice. Lovely delivery."
~ BBC RADIO, SCOTLAND

Nominated ::  "Best of Berkeley 2016"
 
"Monday's Song" and "Trouble No More" are the best of a captivating bunch." 
~ CANTERBURY TIMES, ENGLAND
"It doesn't suck to be Corinne West. She writes great songs, plays with top flight musicians, sports a killer voice..." 
~ AMERICANA UK

"...we begin to suspect that we are witnessing something very special here."
- FATEA MAGAZINE UK, Steve Gray

"Starlight Highway" seduces the ears and the soul with playing that's subtle and restrained and harmonies that will melt the hardest heart." MCKAYA, Music Riot, 2016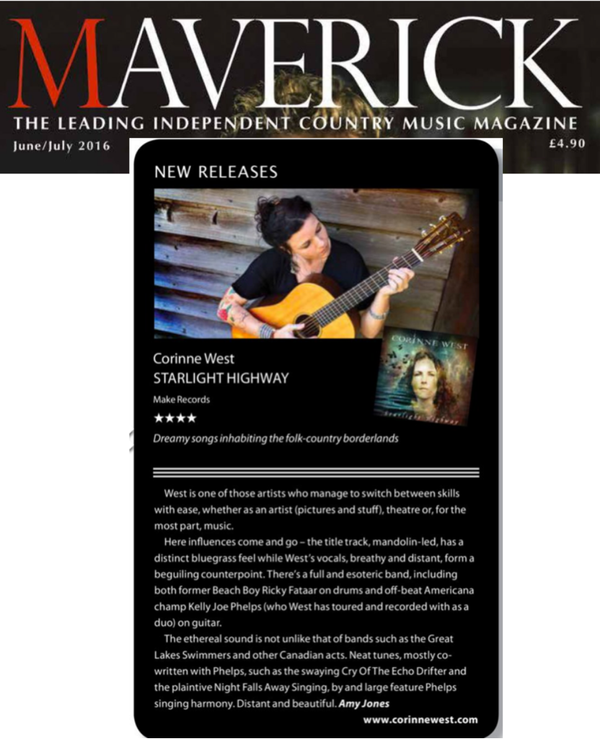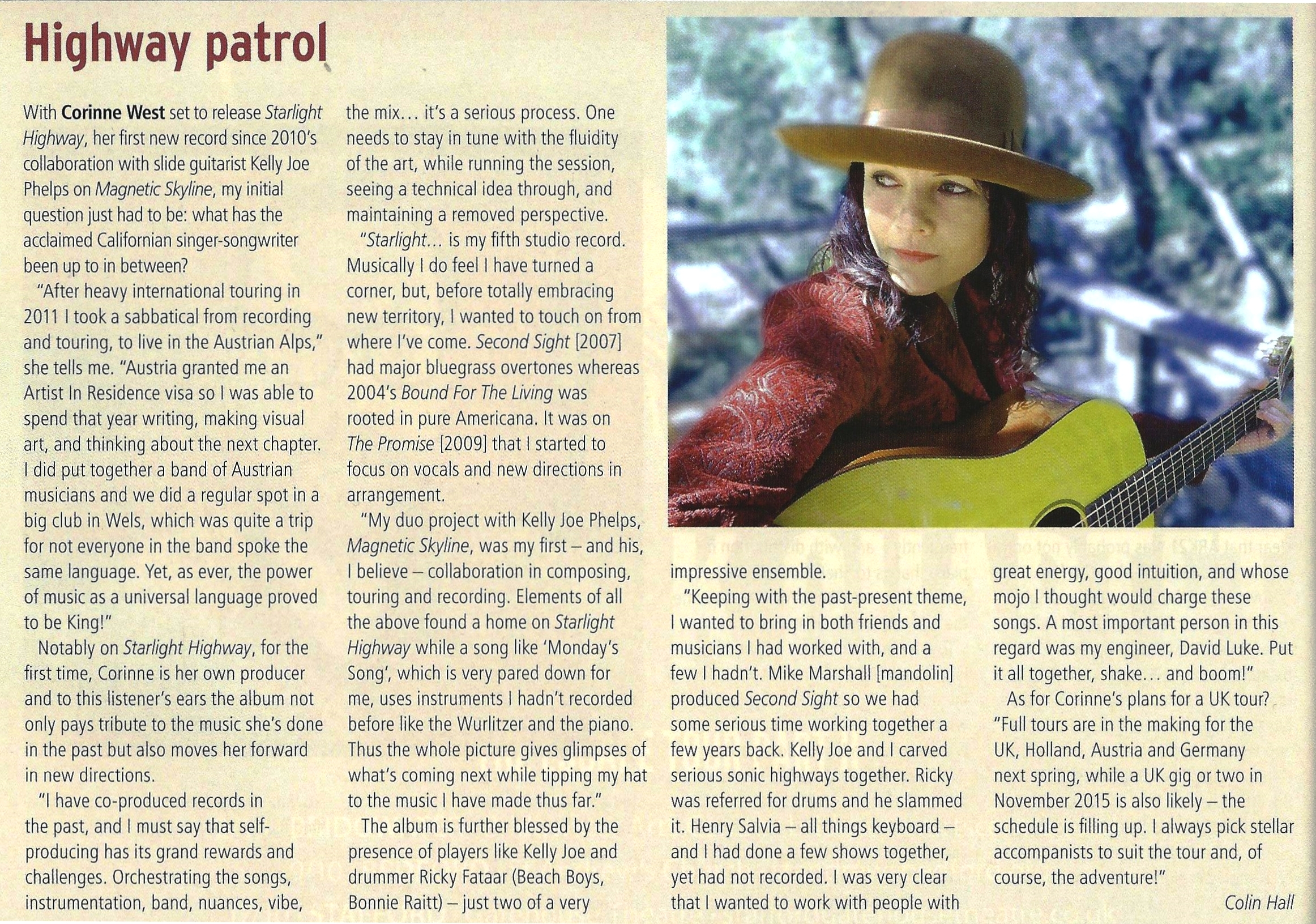 Full Reviews & interviews